Shopping Cart
Your Cart is Empty
There was an error with PayPal
Click here to try again
Thank you for your business!
You should be receiving an order confirmation from Paypal shortly.
Exit Shopping Cart
| | |
| --- | --- |
| Posted on December 5, 2021 at 6:20 AM | |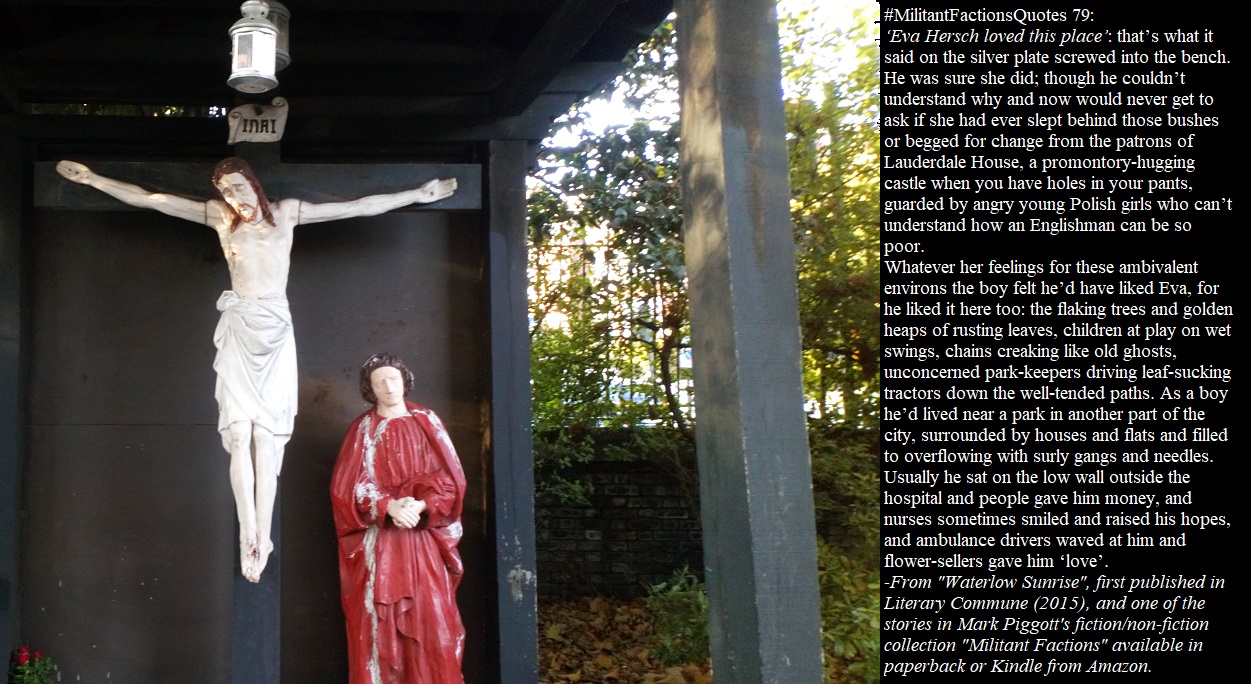 #MilitantFactionsQuotes 79:
'Eva Hersch loved this place': that's what it said on the silver plate screwed into the bench. He was sure she did; though he couldn't understand why and now would never get to ask if she had ever slept behind those bushes or begged for change from the patrons of Lauderdale House, a promontory-hugging castle when you have holes in your pants, guarded by angry young Polish girls who can't understand how an Englishman can be so poor.
Whatever her feelings for these ambivalent environs the boy felt he'd have liked Eva, for he liked it here too: the flaking trees and golden heaps of rusting leaves, children at play on wet swings, chains creaking like old ghosts, unconcerned park-keepers driving leaf-sucking tractors down the well-tended paths. As a boy he'd lived near a park in another part of the city, surrounded by houses and flats and filled to overflowing with surly gangs and needles.
Usually he sat on the low wall outside the hospital and people gave him money, and nurses sometimes smiled and raised his hopes, and ambulance drivers waved at him and flower-sellers gave him 'love'.
-From "Waterlow Sunrise", first published in Literary Commune (2015), and one of the stories in Mark Piggott's fiction/non-fiction collection "Militant Factions" available in paperback or Kindle from Amazon.
Categories: None
/